The following report is a complimentary offering from MEMRI's Jihad and Terrorism Threat Monitor (JTTM). For JTTM subscription information, click here.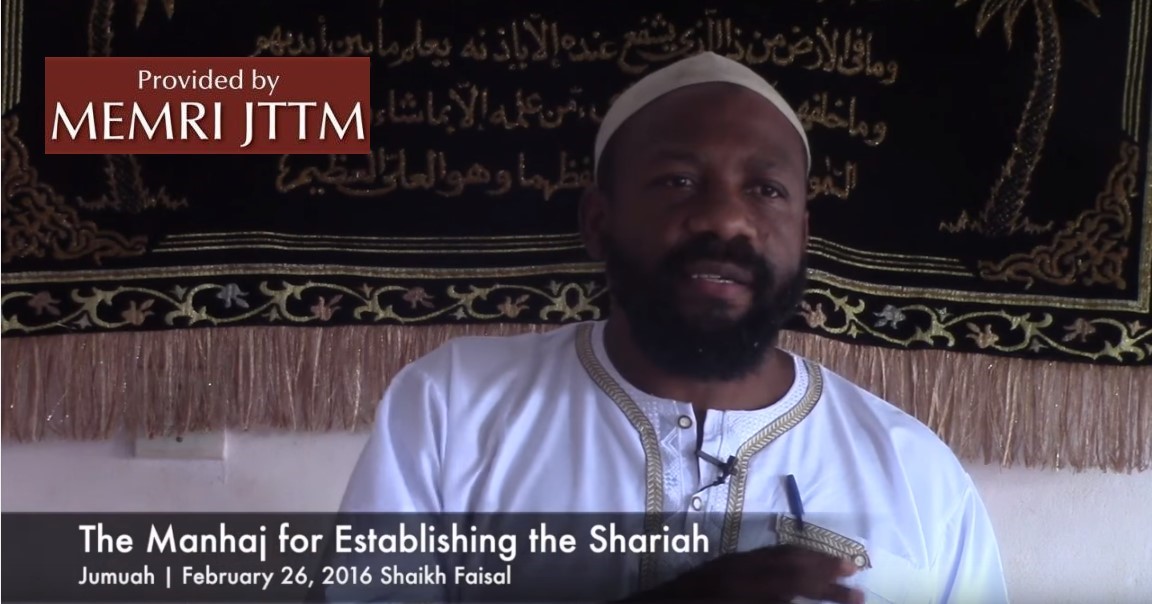 Pro-ISIS Jamaican cleric Sheikh Abdullah Al-Faisal, whose sermons are frequently uploaded by the "Umm Thalaatha" YouTube channel, spent four years in a UK prison for murder and inciting hatred. A graduate of Imam Muhammad Ibn Saud Islamic University in Saudi Arabia, he is said to have inspired several terrorists, among them shoe bomber Richard Reid, 9/11 plotter Zacarias Moussaoui, London bombers Muhammad Sidique Khan and Germaine Lindsay, and Christmas Day bomber Umar Farouq Abdulmutullab. After he was deported from the UK back to Jamaica, the Islamic Council of Jamaica banned him from preaching. However, the Jamaica Observer stated, "Jamaican police have maintained, however, that while the cleric will have to be constantly monitored, he has never incited murder or preached race hate messages on the island." Al-Faisal has also delivered occasional sermons on the U.S.-based online video chat platform Paltalk. He has preached alongside other pro-ISIS radical clerics such as Abu Baraa and Abu Izzadeen. Abu Baraa, aka Mohammed Mizanur Rahman, was charged in August 2015 with inviting support for ISIS under Section 12 of the UK's Terrorism Act 2000. Abu Izzadeen, aka Trevor Brooks, formerly a preacher, was arrested in Hungary in January 2016, possibly en route to Syria, for breaching counterterrorism restrictions for traveling abroad. He had previously served time in the UK in 2008 on terrorism charges.
On February 26, 2016, Al-Faisal delivered a sermon which was uploaded onto "Umm Thalaatha's" YouTube channel, titled "The Manhaj [path] For Establishing The Sharia," in which he railed against former Egyptian president Muhammad Morsi, saying that he should be hanged by the "apostate" Egyptian government. In his sermon, Al-Faisal condemned Morsi not for being a Muslim Brotherhood member but because the Muslim Brotherhood had participated in the democratic political process in Egypt, thereby discrediting jihad and "promoting fitna [dissent]." He also strongly endorsed violence as the best path (manhaj) for Muslims, and said that all homosexuals should be executed in accordance with the shari'a. The sermon is listed under the education category on YouTube.